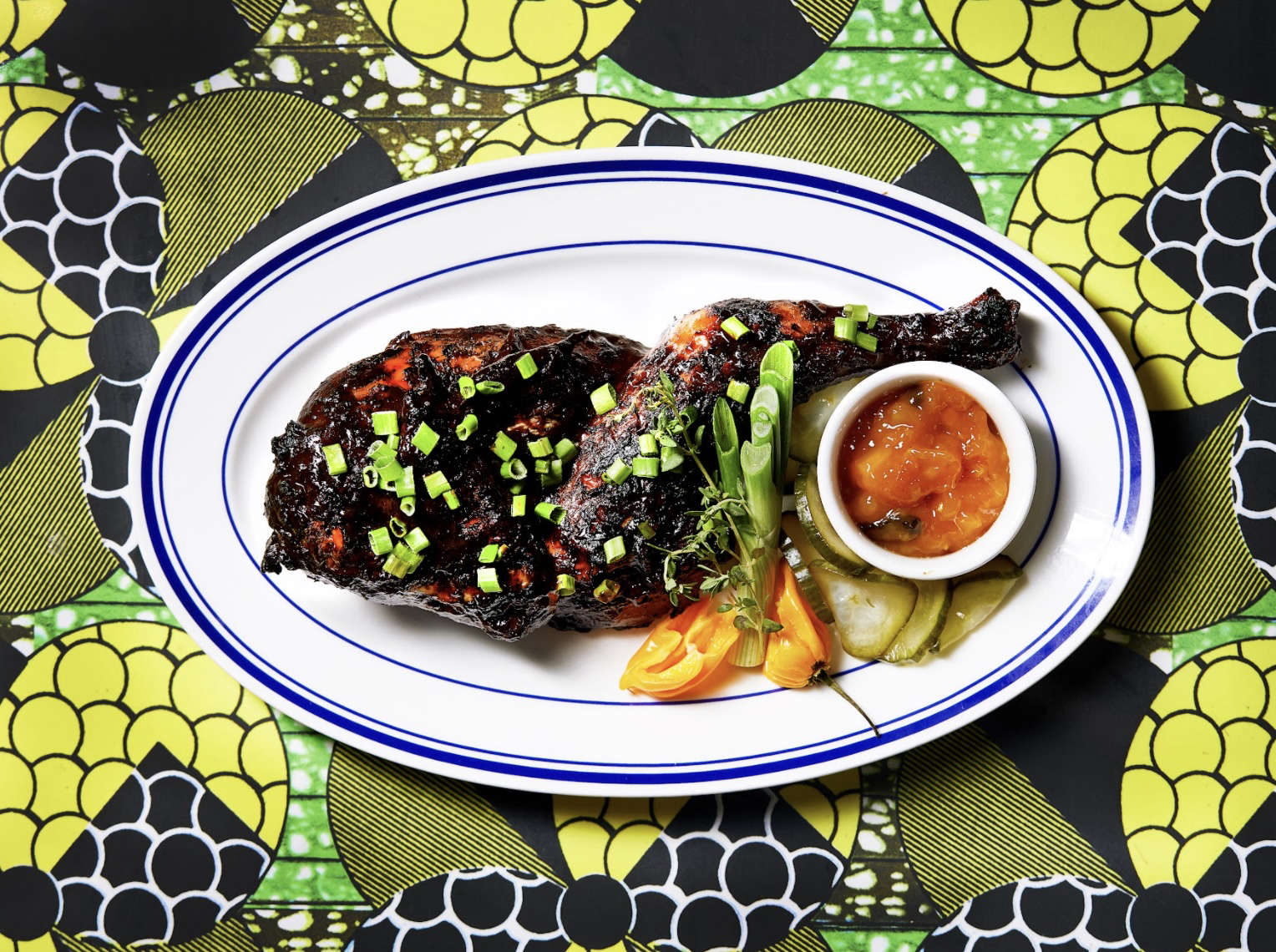 INGREDIENTS AND METHOD
INGREDIENTS for Jerk Chicken
600 g whole Chicken cut in quarters

120 g White Onion

90 g HABANERO CHILLI

45 g Pimento Berries (All Spice)

50 g Spring Onion

90 g Fresh Thyme

70 g Garlic

30g Ginger

200 ml Soy Sauce

20 g knorr Chicken Stock Powder
METHOD for Jerk Chicken
Blend all seasoning together.

Poor over chicken and let rest (overnight).

Grill over low heat until done.
INGREDIENTS for Fried Plantains
250 ml corn oil

1 PC yellow plantain
METHOD for Fried Plantains
Peel and slice plantains into desired thickness

Pour oil in a sauce or use a deep fryer if available

Heat oil to 160 degrees Celsius

Add plantains and fry until golden brown
INGREDIENTS for Rice & Peas
.5 ltr water (as needed)

200 g Cooked Red Kidney Beans

100 g Coconut Milk Powder

10 g Fresh Thyme Chopped

50 g white Onion Chopped

20 g Scallion Chopped

15g Garlic Chopped Fine

7g Ginger Chopped Fine

10 g Habanero chilli

15g Salt

5 g Allspice

10g Sugar

14 g Corn Oil

120 g Jasmine Rice

70 ml Coconut Oil
METHOD for Rice & Peas
In a sauce pot add corn oil and sweat onion, scallion, thyme, garlic and ginger for 5 minutes

Add water, coconut milk powder, salt, sugar, scotch bonnet pepper, allspice powder, coconut oil and cooked kidney beans, then bring to a boil.

Wash jasmine rice and add to the boiling Bean mixture.

Cook for 45 minutes covered on low heat.

Alternatively add rice to cooker pour bean mixture and press cook.