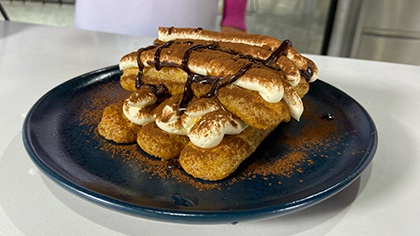 This week on Farmer's Kitchen presented by Spinneys, Helen is in the kitchen with Carine Ani, A lover of cheese and bread, Carine grew up on local specialties produced in the region, from Pont L'evêque cheese to Canard a la Rouennaise, which gave her a deep appreciation of food and the importance of knowing the source of where food comes from.
On the show this week, we're creating a gorgeous tiramisu which you can make at home with tasty Spinneys ingredients. Try the recipe below!
How to make Tiramisu at home

This week on Farmer's Kitchen presented by Spinneys Dubai Helen is in the kitchen with Carine Ani, the namesake of carine. We're making a fabulous classic tiramisu which is a great recipe to try at home! 😋 Get your ingredients from Spinneys and give it a go! Get the recipe here... https://www.dubaieye1038.com/recipes/how-to-make-tiramisu-at-home/ [Please note this episode was recorded earlier this year]

Posted by Dubai Eye 103.8 News. Talk. Sport on Thursday, April 2, 2020
INGREDIENTS
Tiramisu Mix
Sugar 350gm

Water 60gm

Egg yolk 150gm

Vanilla bean 3pcs

Mascarpone 1kg

Gelatine 7 pieces
Lady Fingers
Coffee Mix
Espresso 1L

Super 30 - 200gm
Chocolate sauce
Sugar 210gm

Water 75ml

Cocoa powder 70gm

Cream 145gm

Gelatin 80gm
Cocoa nibs
Tuile milk 100gm

Glucose syrup 100gm

Butter 250gm

Sugar 300gm

Cocoa nibs 300gm
METHOD
Tiramisu mix: Pre soak gelatine in ice water. Boil sugar and water to 110C. At the same time mix egg yolk and vanilla beans in a mixing bowl. Fold egg mixture into the sugar water, keep mixing until it becomes pale in color. Add 1kg mascarpone to the mix and mix well. Set aside.
In a separate bowl whip shani cream to soft peaks, add the whipped cream to the mascarpone mixture and fold nicely. take a little cream mix, put gelatin and microwave it for 30 seconds till gelatine dissolves. add the gelatine mixture to the mascarpone mix and mix it well. Put in a piping bag.
Coffee Mix: mix espresso and super 30. Soak lady fingers until soaked properly, drain the excess and arrange in a baking tray.
To serve: Arrange 3 soaked lady fingers on the plate- pipe tiramisu mix over them to cover them completely. Put another 2 soaked lady fingers on top and pipe tiramisu mix again. Place the cocoa nibs tuile crumble on top garnish with cocoa powder and chocolate sauce.