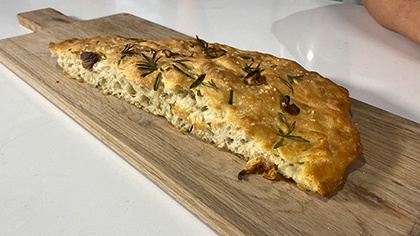 Andrew Alexander, the head baker from 1762 and Appetite joins Helen to make the most squishy, fragrant focaccia imaginable. There are loads of possibilities to mix up the flavours with ingredients from Spinneys too. Who knew bread was so easy to make at home?
INGREDIENTS
Toppings as desired
Garlic x

100g Rosemary fresh x

50g Maldon salt x

50g Olive oil
Chef Andrew Alexander "I like to keep it nice and classic with the garlic, rosemary and Maldon salt. We could do a more adventurous one which is wholegrain mustard and brie/ jalapeno and smoked cheddar, something a bit more accessible like sundried tomato and feta or our most popular one which is kalamata olive. To be fair, from the base I can do any amount of toppings to show variations, but I like these ones the most."
METHOD
1. Preheat oven to 220C Mix all the dry ingredients together into a large mixing bowl
2. Mix all the dry ingredients together into a large mixing bowl then add the oil and water and mix until combined
3. scrape the sides of your bowl with a dough scraper or spatula to make sure there are no dry lumps of dough or bits of flour (this will create lumps in the bread)
4. cover with clingfilm and leave to rise/proof for 30 min at room temperature
5. removed the clingfilm and using a spatula/scraper, fold the dough into itself from the outside inwards 6. cover again and leave for 30 minutes
7.oil your tray or baking dish generously with olive oil
8. remove the clingfilm and oil the surface of the dough lightly
9. tip the dough out onto your tray and using your fingertips, work the dough out to the edges of your tray 10.arrange your toppings on the dough and "dimple" it into the dough to create pockets
11. rest for 15 minutes
12. bake for 10 minutes, then open the oven slightly, lower the temperature to 180C and bake for a further 10-20 minutes depending on the size of the focaccia
13. remove from the oven and drizzle some olive oil on top.
14. serve while still warm
Notes:
Makes great toasties the next day

You can use for chunky croutons

You can make it into a pizza style focaccia, individual units or a large, bready tray focaccia.