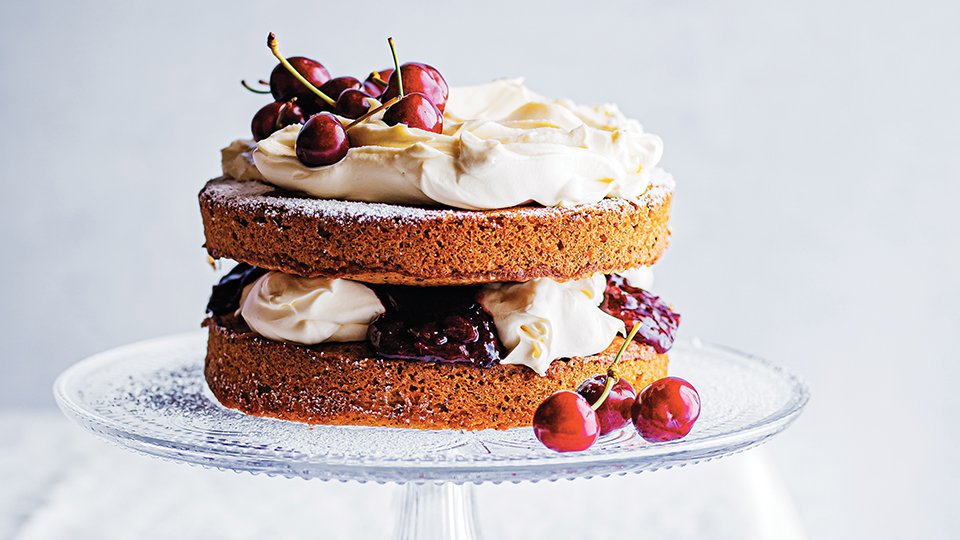 The Victoria Sponge was named after Queen Victoria, who was believed to have indulged in a slice of this layered cake along with her daily afternoon tea. Memoirs reveal that Queen Victoria, who reigned for just over 63 years, had a sweet tooth and the royal kitchens were often busy catering to her dessert desires. This cake is occasionally referred to as the Victoria Sandwich since there is a layer of filling between the two sponge cakes.
Prep time: 25 minutes
Cook time: 25 minutes
Serves: 4-6
For the sponge
2 SpinneysFOOD
Earl Grey Tea bags
175g salted butter
175g SpinneysFOOD Extra Fine Caster Sugar
1 tsp vanilla extract
3 large eggs
175g SpinneysFOOD Self-Raising Flour
1 tbsp warm milk
For the filling
50ml whipping cream
185g good-quality cherry jam
To serve
3 tbsp SpinneysFOOD Super Fine Icing Sugar
250g SpinneysFOOD Cherries
1 Preheat the oven to 180°C, gas mark 4.
2 Grease and line 2 x 17cm springform cake tins with baking paper.
3 Cut open the tea bags and place the tea leaves in a blender, or spice grinder, and blitz until fine. Set aside.
4 Place the softened butter and sugar in the bowl of a stand mixer fitted with a paddle attachment and beat until light and fluffy, then beat in the vanilla.
5 Make sure the eggs are at room temperature before gradually adding them, one at a time, to the butter mixture with the mixer running.
6 Sift the flour and gently fold into the mixture with the warm milk and Earl Grey tea.
7 Divide the batter between the two prepared tins and bake for 20-25 minutes, or until light golden brown and springy in the middle.
8 Allow the sponges to cool for 5 minutes in the tins then carefully turn them out onto a rack and allow to cool completely.
9 To prepare the filling, whip the chilled cream until stiff peaks form.
10 To assemble the cake, trim the tops of the cakes then set one sponge cut-side down. Using a tablespoon, dollop the jam and half the whipped cream over the sponge. Top with the second sponge layer. Dollop the rest of the cream on top
11 Dust with the icing sugar and decorate with the cherries.