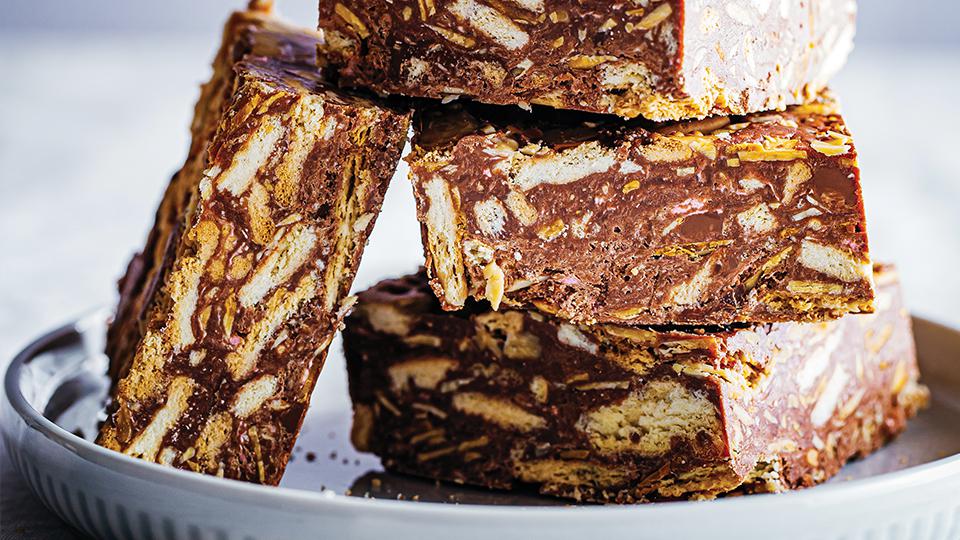 Marie, the name of the popular tea-time biscuit, was inspired by Russia's Grand Duchess Maria. She was also the daughter of Czar Alexander II of Russia and wife of Alfred, the second son of Queen Victoria and the Duke of Edinburgh. The original biscuit was created for their wedding at an English bakery that made a small round cookie stamped with the duchess' name in 1874.
CHOCOLATE MARIE BISCUIT FUDGE
Prep time: 15 minutes (plus setting time)
Cook time: 2 minutes
Makes: 9 bars
100g flaked almonds
165g Marie biscuits
400g good-quality milk chocolate
200g marshmallows
1 Grease and line a 20cm x 20cm cake tin.
2 Lightly toast the almonds.
3 Crush the Marie biscuits roughly and mix in the toasted almonds.
4 Finely chop the chocolate.
5 Place the marshmallows in a medium-sized microwavesafe bowl. Melt the marshmallows using full power mode in 10-second bursts until melted and smooth.
6 Add the chocolate, Marie biscuits and almonds to the bowl and stir until combined and the chocolate has melted – the mixture will be stringy.
7 Quickly spread the mixture in the lined tin and refrigerate until set. 8 Cut into bars or triangles to serve.