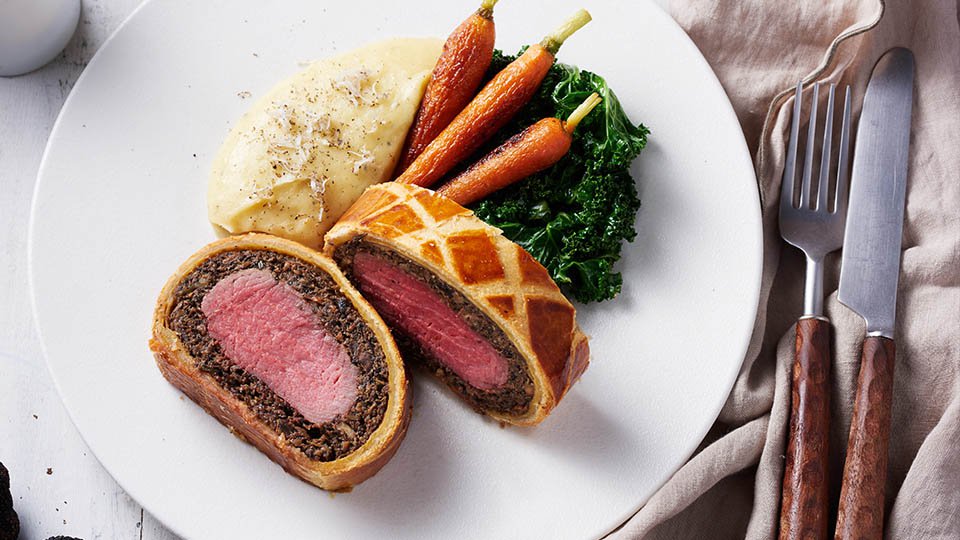 Have you ever fancied making Beef Wellington but were too worried about overcooking the meat? Chef Cesar Bartolini comes to the rescue with this mini Beef Wellington.
Argentinian born Cesar Bartolini, Chef de Cuisine of Bread Street Kitchen & Bar, Atlantis, The Palm shows us how to make mini Beef Wellington, a spin on their famous Beef Wellington.
We also learn his pastry decoration tips and whether Chocolate Wellington actually exists!
Bartolini has worked 12 years alongside Chef Gordon Ramsay, finding it both demanding and exciting at same time!
To try this dish at home, click below. And remember, as Chef says, practice makes perfect!
INGREDIENTS
½ kg BEEF FILLET
150gr FLAT MUSHROOMS, CHOPPED
150gr BUTTON MUSHROOMS, CHOPPED
1 SPANISH ONIONS CHOPPED
2 GARLIC CLOVES CHOPPED
1 SPRIGS OF THYME
1 SPRIGS OF ROSEMARY
1/2 CHICKEN BREAST
75ML DOUBLE CREAM
1 SAJ BREAD
ENGLISH MUSTARD
1 SHEET OF PUFF PASTRY
1 EGG YOLK
SALT AND PEPPER
OLIVE OIL

This dish serves well with roasted carrots, kale, truffle mash and marrowbone sauce or gravy.