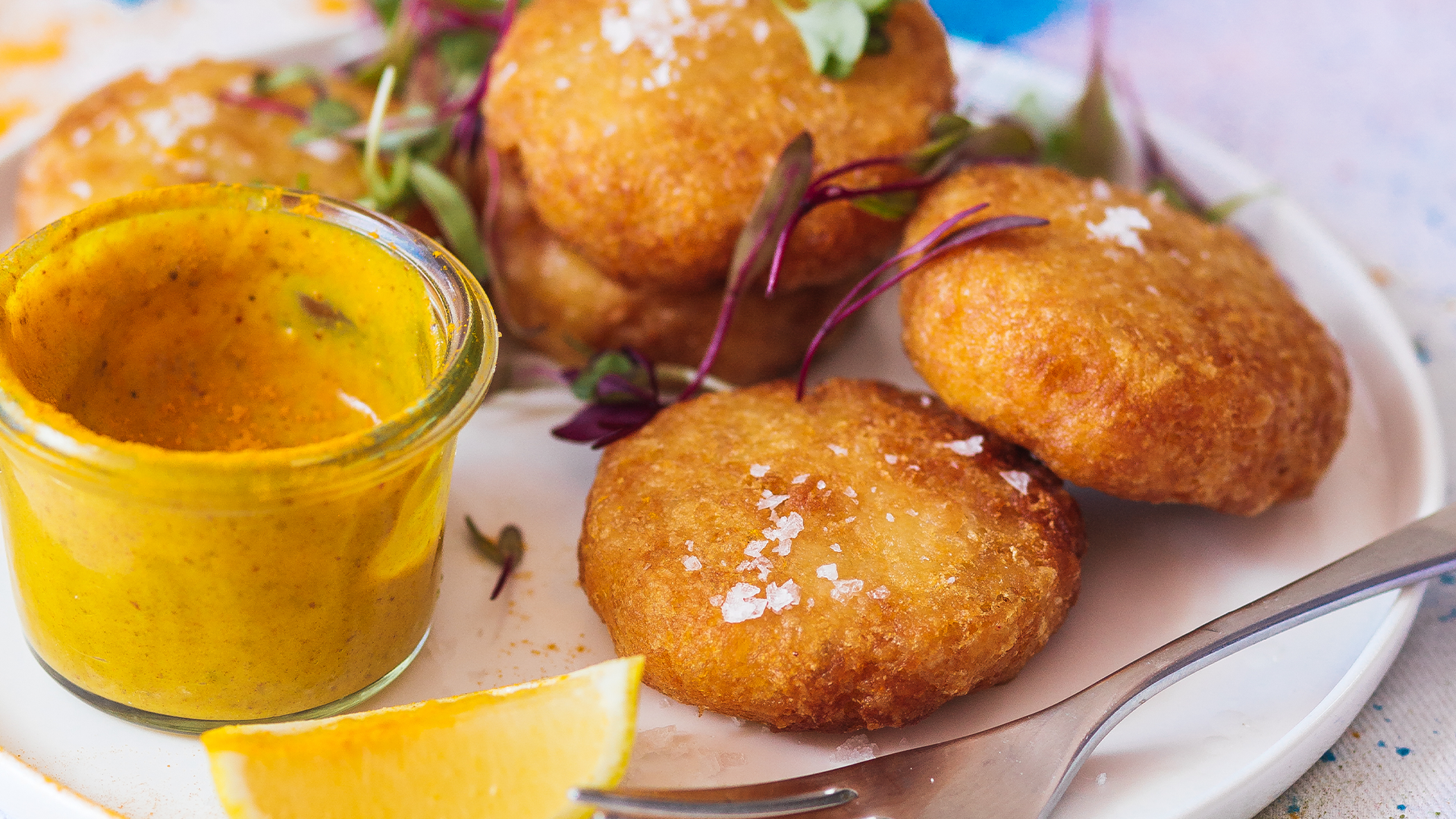 Prep time: 15 minutes (plus soaking time)
Cook time: 20 -25 mins
Serves: 4
INGREDIENTS
For the Aloo Tikkis:
150G spinneysFOOD Chana Dal,
Soaked overnight
3 large potatoes, boiled
2 tbsp spinneysFOOD Pure Sunflower Oil, plus extra for frying
1 tsp spinneysFOOD Chilli Powder
1 tsp spinneysFOOD Fine Tumeric
1 tsp spinneysFOOD Fine Cumin
1 bunch (30g) spinneysFOOD Fresh Coriander chopped
1 tbsp cornflour
spinneysFOOD Salt, to taste
For the tamarind yoghurt:
4 tbsp tamarind paste
250ml yoghurt
1 tbsp spinneysFOOD Fine Tumeric
1 thumb-sized piece of ginger, grated
spinneysFOOD Salt, to taste
spinneysFOOD Black Peppercorns, freshly ground, to taste
PREPARATION
1 Place the chana dal in a pressure cooker along with a teaspoon of salt and a cup of water and cook on high for 12 minutes. Rinse well and set aside.
2 Meanwhile, grate the potato and refrigerate it until needed.
3 Heat a large pan with 1 tsp oil and sauce the spices and dal for 2-3 minutes. Transfer to a food processor and pulse until smooth. Stir in the chopped coriander
4 Add the cornflour and salt to the grated potato; mix to combine to form a non-sticky dough.
5 To shape the aloo tiki, take a small portion of the potato mixture in between your palms. Roll it and gently flatten it with your fingers. If the potato mixture seems sticky, moisten your fingers with a teaspoon of oil.
6 Make a well in the centre of the potato ball, fill in a teaspoon of dal stuffing. Close the edges. Gently flatten the balls once again to get the thickness of an inch or so. Similarly, shape all the patties.
7 Heat the oil in a frying pan over medium heat and shallow fry the aloo tikkis in small batches over low-medium heat. Drain on paper towels.
8 To make the yoghurt, combine all the ingredients. Serve with the aloo tikkis.