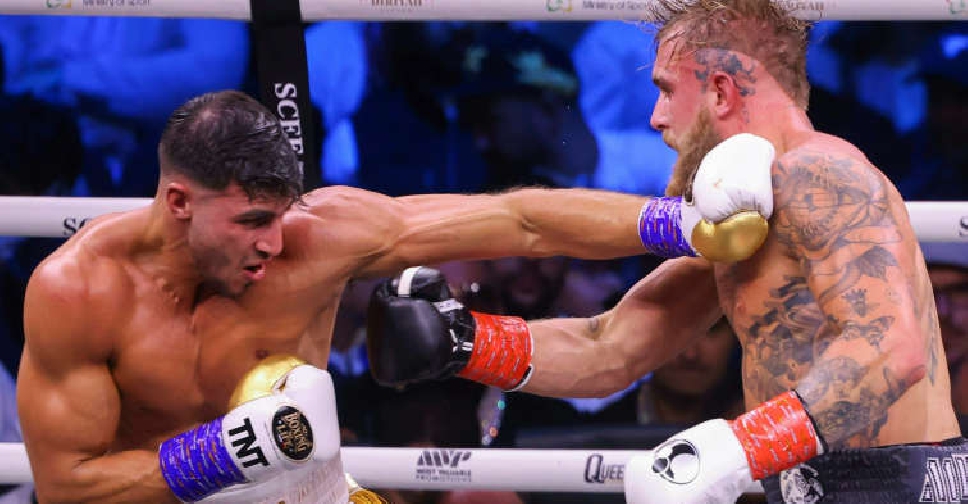 AFP
In a highly anticipated fight, YouTuber-turned-boxer Jake Paul faced off against professional boxer Tommy Fury on Sunday night at the Diriyah Arena in Saudi Arabia's Riyadh. 
This marked Paul's biggest challenge to date, as he had previously only fought MMA fighters, another YouTuber, and a former NBA player in the ring.
The fight lasted eight rounds, and although Paul put up a good fight, Fury ultimately won via a split decision. The judges scored it 76-73 twice for Fury and 75-74 once for Paul. Fury seemed to have a slight edge throughout most of the fight, but Paul landed some great punches of his own.
Both fighters had a point deducted in the later rounds for seemingly landing a punch to the back of the other's head. In the eighth round, Paul came out early with a left-handed jab that sent Fury stumbling back and down to the mat briefly, marking the first and only knockdown of the bout. However, Fury quickly got back up and fought on, landing several blows of his own to keep the advantage and ultimately win the fight.
After the fight, Paul stated that he didn't agree with the judges' decision, but acknowledged that he didn't perform at his best and that he got sick twice in camp and injured his arm, which drew boos from the crowd.
"But I lost. I'm not making excuses," Paul said. "I'm just saying it wasn't my best performance. I fell flat."
Fury, on the other hand, didn't seem too fazed by the knockdown and stated that if Paul wanted a rematch, he could have one.
"That wasn't a knockdown, that was a slip," Fury said. "That was genuinely a slip. I got up… I came right back into it."
Despite the loss, Paul has proven himself to be a formidable opponent in the ring. However, one of his biggest criticisms has been that he hadn't fought a real boxer until now. While Fury is as close to that as he's come, he still hadn't fought any particularly tough opponents before facing Paul.
Regardless, Sunday's fight was a major milestone for both fighters, as Paul faced his toughest opponent yet and Fury added another win to his record. The final word might not have been said yet in this rivalry with Fury saying he was open to a rematch if Paul wanted.
"If he wants a rematch, he can have a rematch," Fury declared.