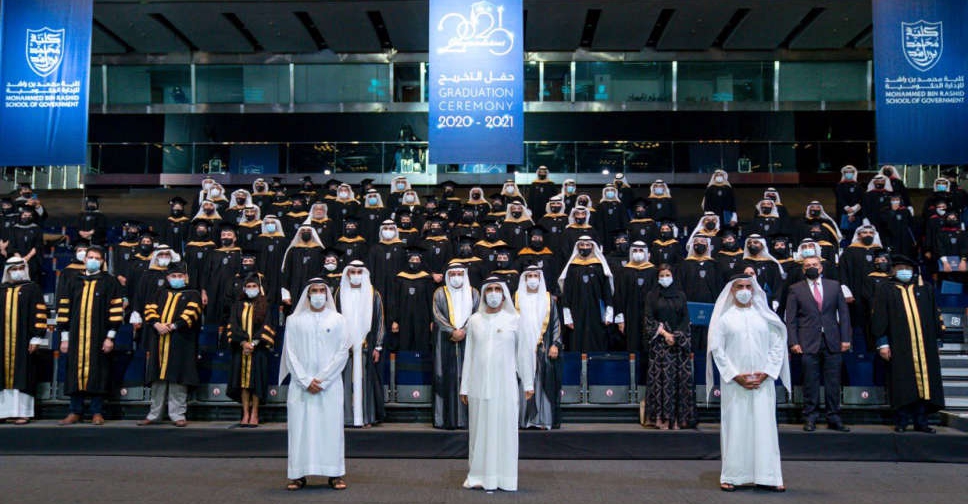 Supplied
His Highness Sheikh Mohammed bin Rashid Al Maktoum, Vice President and Prime Minister of the UAE and Ruler of Dubai, attended the graduation ceremony of the 7th and 8th batch of graduates of the Mohammed bin Rashid School of Government (MBRSG) Master's programmes on Saturday.
أثناء حضوري حفل تخريج ٢٨٥ خريجاً في ماجستير الادارة والابتكار والسياسات العامة من كلية الادارة الحكومية .. ادارة الحكومات علم .. وادارة السياسات علم .. والابتكار الحكومي علم .. تقدم الدول لا يحدث صدفة .. وإنما بالعلم الصحيح والفهم والتفاني.. وليس بالخطب الرنانة والوعود الحالمة.. pic.twitter.com/HkMpR9FTrO

— HH Sheikh Mohammed (@HHShkMohd) September 11, 2021
His Highness Lt. General Sheikh Saif bin Zayed Al Nahyan, Deputy Prime Minister and Minister of Interior, also attended the graduation ceremony.

The ceremony saw 285 students graduate from MBRSG's Master's programmes in various disciplines including administration, innovation and public policy.

A total of 86 candidates from the Ministry of Interior graduated from the Executive Master of Public Administration (EMPA) programme.

Commenting on the occasion His Highness Sheikh Mohammed said: "We constantly seek to invest in our human resources in a bid to empower them and engage them in our efforts to find innovative solutions to future challenges. The future belongs to those who pursue science and knowledge and master the skills necessary to excel and accomplish their goals."

His Highness added that the UAE is home to outstanding academic institutions that are capable of producing world-leading, globally competitive scientific breakthroughs and providing governments in the UAE and the region with pragmatic, forward-thinking solutions.

"We will continue to support our scientific and academic institutes and invest in our Emirati people – our most valuable asset and our best bet for building a bright future for generations to come," Sheikh Mohammed said.

The graduating class consisted of 285 students, 180 of whom were enrolled in the Executive Master of Public Administration (EMPA) programme, 41 in the Master of Innovation Management (MIM), 37 in the Master of Public Administration (MPA), and 27 in the Master in Public Policy (MPP).

Graduates included UAE citizens, Arab nationals and foreign expatriates.