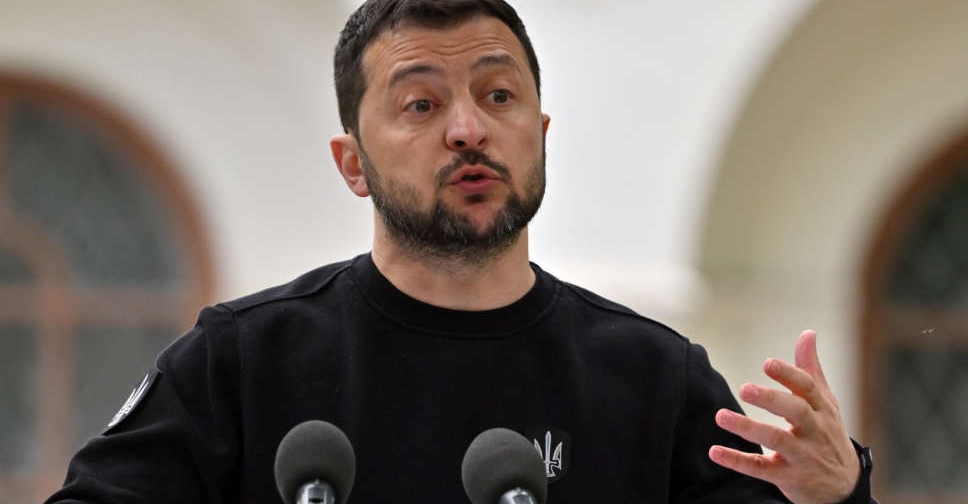 AFP
Ukraine is holding fire until more Western armoured vehicles arrive before it starts its long-awaited counteroffensive to recapture Russian-occupied territory, President Volodymyr Zelenskiy said in an interview released on Thursday.
"We still need a bit more time," Zelenskiy said in the interview with European broadcasters, according to Britain's BBC.
Ukrainian forces had already received enough equipment from Western allies for a campaign, but some of the promised armoured vehicles were still arriving. Waiting a bit longer for them would reduce casualties, he said.
"With [what we have] we can go forward and be successful," he said. "But we'd lose a lot of people. I think that's unacceptable."
The war in Ukraine is at a turning point, with Kyiv poised to unleash its new counterstrike after six months of keeping its forces on the defensive, while Russia mounted a huge winter offensive that failed to capture significant territory.
Western allies are sending hundreds of tanks and armoured vehicles to Ukraine for its counteroffensive and have trained thousands of Ukrainian troops abroad.
Moscow's main target for months has been the small eastern Ukrainian city of Bakhmut, which it has come close to capturing but not quite taken in what would be its sole prize after months of the bloodiest ground combat in Europe since World War II.
In recent days Ukraine has claimed successes on the city's outskirts. Both a Ukrainian unit and the leader of Russia's Wagner private army say a Russian brigade fled its positions on Tuesday, giving up a swathe of land southwest of Bakhmut.
The commander of Ukraine's ground forces said on Wednesday that Russian forces had retreated in places by as much as 2 km at the front line.
The Russian defence ministry has not commented on those reports but in remarks overnight Kremlin spokesman Dmitry Peskov acknowledged that the war was "very difficult".
He said he had no doubt that Bakhmut "will be captured and will be kept under control".
In Brussels, NATO's top military official said the war would increasingly be a battle between large numbers of poorly trained Russian troops with outdated equipment and a smaller Ukrainian force with better Western weapons and training.
Admiral Rob Bauer, a Dutch officer who is chair of NATO's military committee, said Russia was deploying T-54 tanks - an old model designed in the years after World War Two.