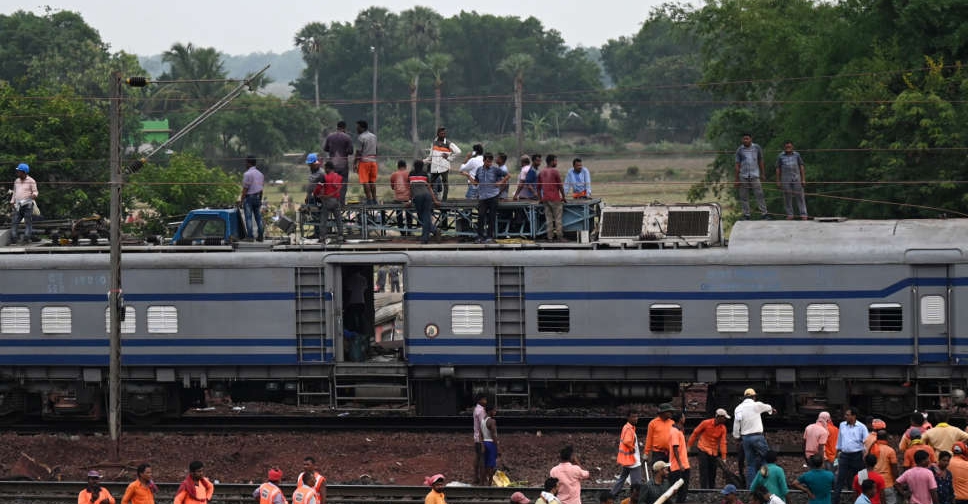 Railway workers stand on the roof of a service carriage to restore overhead electrical supply wires at the accident site (AFP)
India's official investigation into its deadliest rail crash in over two decades began on Monday, after preliminary findings pointed to signal failure as the likely cause for a collision that killed at least 275 people and injured 1,200.
The disaster struck on Friday, when a passenger train hit a stationary freight train, jumped the tracks and hit another passenger train passing in the opposite direction near the district of Balasore, in the eastern state of Odisha.
Following non-stop efforts to rescue survivors, and clear and repair the track, trains resumed running over that section of the line on Sunday night.
Video footage shot on Monday morning by Reuters partner ANI showed a train passing slowly by the derailed and mangled compartments, while the repair work continued at the track side.
Some 120 kilometres north, at Kharagpur, in West Bengal state, railway officials and witnesses gathered to submit evidence to a two-day inquiry, led by A.M. Chowdhary, commissioner of railway safety for the south-eastern circle.
"Several officials and witnesses have joined the inquiry. The inquiry is underway," a senior railway officer told a Reuters reporter, as officials checked documents being submitted for examination.
India's Railway Board, the top executive body, has recommended that the Central Bureau of Investigation take over the investigation into the cause of the disaster.
"We have to move towards normalisation... Our responsibility is not over yet," railway minister Ashwini Vaishnaw told reporters.
Preliminary investigations indicated the Coromandel Express, heading southbound to Chennai from Kolkata, moved out of the main track and entered a loop track – a side track used to park trains – at 128 kph, crashing into the freight train parked on the loop track.
That crash caused the engine and first four or five coaches of the Coromandel Express to jump the tracks, topple and hit the last two coaches of the Yeshwantpur-Howrah train heading in the opposite direction at 126 kph on the second main track.
A few trains on the crash section remained cancelled on Monday, but the Chennai-bound Coromandel Express will resume its journey at 2:50 pm (0920 GMT) for the first time after Friday's accident, a railways spokesperson said.
"Passenger occupancy is almost 99 per cent," Aditya Chaudhary, chief public relations officer of South Eastern Railway, told Reuters.