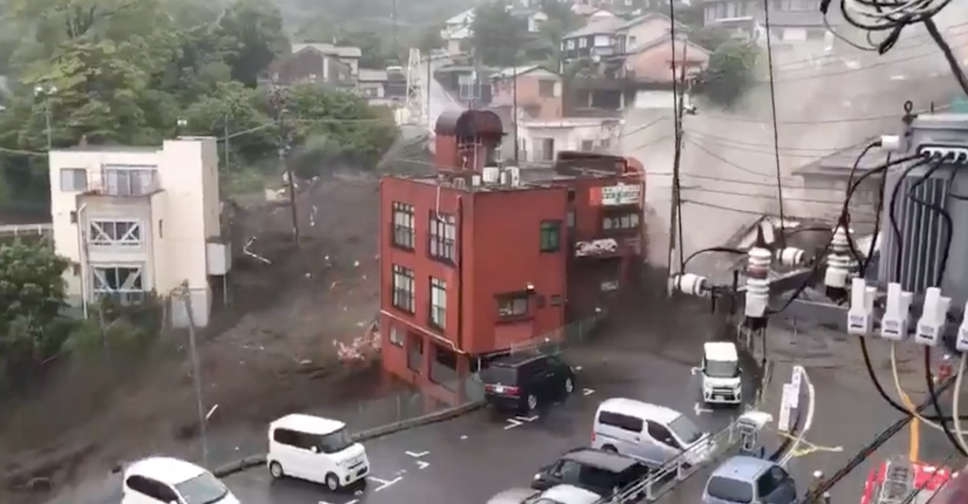 TWITTER/ @jbot26830444
Emergency response crews from Japan's defense force were dispatched to the central city of Atami after landslides triggered by heavy rains left at least 20 people missing, public broadcaster NHK said on Saturday.
Prime Minister Yoshihide Suga has called together an emergency task force to respond to the crisis, NHK reported, as it aired Twitter footage showing floods destroying houses and washing away debris.
The rainfall deluging the city since Friday has already exceeded the average July levels for both Shizuoka, where Atami is located, and neighbouring Kanagawa prefecture, according to NHK.

黄瀬川大橋、崩壊。
熱海で大規模土砂崩れ。
車も家も流される事態に。#豪雨 #拡散希望https://t.co/HX5mKb34zj

— 炎上動画・面白ネタ拡散バード🇯🇵 (@enjou_kakusan) July 3, 2021
熱海市伊豆山小杉造園付近で崩落 pic.twitter.com/MWGN0xxGnG

— なんJ迷言bot (@jbot26830444) July 3, 2021
The floods are a reminder of the natural disasters - including earthquakes, volcanoes and tsunami - that plague Japan, where the capital Tokyo is to host the summer Olympics starting this month.
Two people were found in a state of cardiac arrest in Atami, 90 km (60 miles) southwest of Tokyo, and taken to hospital, NHK said.
It aired footage of collapsed and half-submerged houses as water dashed the city with mud and debris. Social media images showed partially submerged cars and rescue workers wading through waist-high water with a small life raft.
Japan's military sent emergency rescuers to the city, where about 80 people are evacuated, NHK said.
Some 2,830 households in the area face power outages, it said, citing the Tokyo Electric Power.