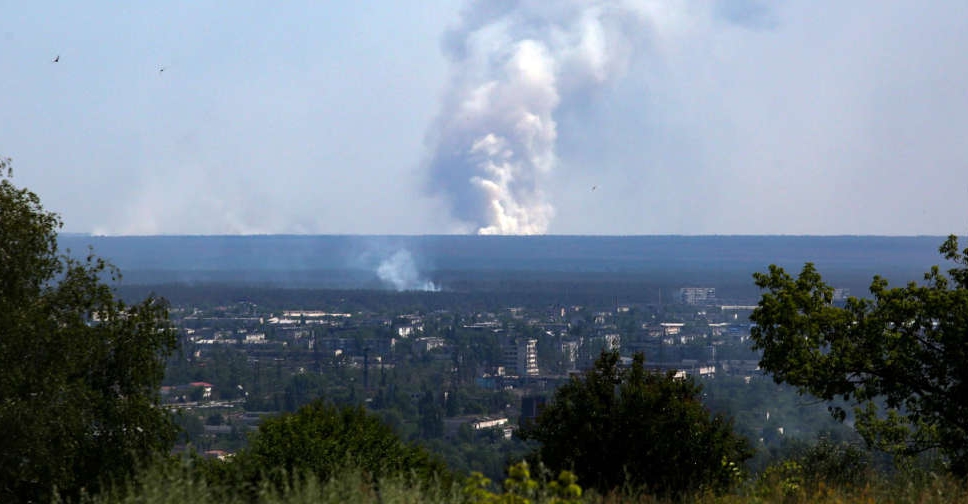 AFP
Russian forces pounded Ukraine's second largest city Kharkiv and surrounding countryside with rockets, killing at least 15 people, in what Kyiv called a bid to force it to pull resources from the main battlefield to protect civilians from attack.
Inside Russia, a fire tore through an oil refinery just 8 km from the Ukrainian border. Russia's TASS news agency quoted a local official as saying it had been struck by a drone.
The Russian strikes on Kharkiv, throughout Tuesday and continuing on Wednesday morning, were the worst for weeks in the area where normal life had been returning since Ukraine pushed Russian forces back in a major counter-offensive last month.
Medical workers carried the body of an elderly woman out of the rubble of a burnt-out garage and into a nearby van.
Ukrainian authorities said 15 people were killed and 16 wounded on Tuesday in shelling in the Kharkiv region, with reports of more casualties from strikes overnight and on Wednesday morning.
Kharkiv suffered punishing Russian shelling for the first three months of the war, but had largely been spared since the Ukrainian counter-offensive more than a month ago.
The main battlefield is now to the south in the Donbas region, which Moscow has been trying to seize on behalf of its separatist proxies.
Ukrainian forces in the Donbas have largely been withstanding the Russian assault so far, with Moscow making only slow progress despite deploying overwhelming artillery in some of the heaviest ground fighting in Europe since World War II.
DRONE STRIKE
There was no immediate Ukrainian comment about the blaze that tore through Russia's Novoshakhtinsk oil refinery, located on the Russian side of the frontier with Donbas territory controlled by pro-Russian separatists.
Video footage posted on social media appeared to show a drone flying towards the refinery, before a large ball of flame and black smoke billowed up into the summer sky. The local emergency service, cited by Interfax, said no one was hurt and the blaze was put out.
Ukraine generally does not comment on reports of attacks on Russian infrastructure near the border. In the past it has called such incidents "karma" for Russian attacks on Ukraine.
Wednesday is marked in both Russia and Ukraine as the "Day of Remembrance and Sorrow", anniversary of the day when Hitler's Germany attacked the Soviet Union. An estimated 27 million Soviet citizens died in World War II.