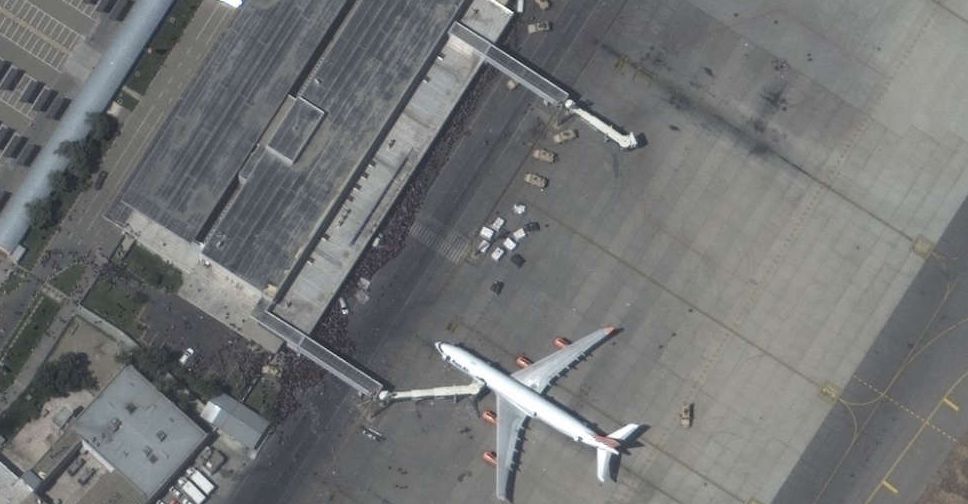 AFP PHOTO / SATELLITE IMAGE ©2021 MAXAR TECHNOLOGIES
There were at least two explosions near Kabul's airport amid a huge evacuation effort from Afghanistan, the Pentagon said on Thursday.
Civilians and US service members are among the casualties but the numbers remain unclear.
Pentagon Press Secretary John Kirby said one explosion took place near the Abbey Gate of the airport, and another near the Baron Hotel, a short distance away from Abbey Gate.
A surgical hospital run by an Italian charity said it was treating more than 60 wounded.
Meanwhile, the Taliban said at least 13 people, including children, were killed and many of its guards were wounded.
The attacks came after the United States and allies urged Afghans to leave the area because of a threat by the IS.
We can confirm that the explosion at the Abbey Gate was the result of a complex attack that resulted in a number of US & civilian casualties. We can also confirm at least one other explosion at or near the Baron Hotel, a short distance from Abbey Gate. We will continue to update.

— John Kirby (@PentagonPresSec) August 26, 2021
The blasts appeared to be caused by a suicide bomb, US officials said citing an initial report.
A source familiar with US congressional briefings said officials strongly believe that the Afghan affiliate of IS, known as Islamic State Khorasan (ISIS-K), after an old name for the region, was responsible.
ISIS-K is opposed by the United States and the Taliban.
US President Joe Biden has been briefed on the explosion, a White House official said.
Britain's defence ministry said it was working urgently to establish what had happened.
"We are working urgently to establish what has happened in Kabul and its impact on the ongoing evacuation effort," it said on Twitter.
The United States and its allies have mounted one of the biggest air evacuations in history, bringing out about 95,700 people, including 13,400 on Wednesday, the White House said on Thursday.
The US has been racing to carry out the airlift before its military is set to fully withdraw from the country on August 31.
In an alert issued on Wednesday, the US Embassy in Kabul had advised citizens to avoid travelling to the airport and said those already at the gates should leave immediately, citing unspecified "security threats."