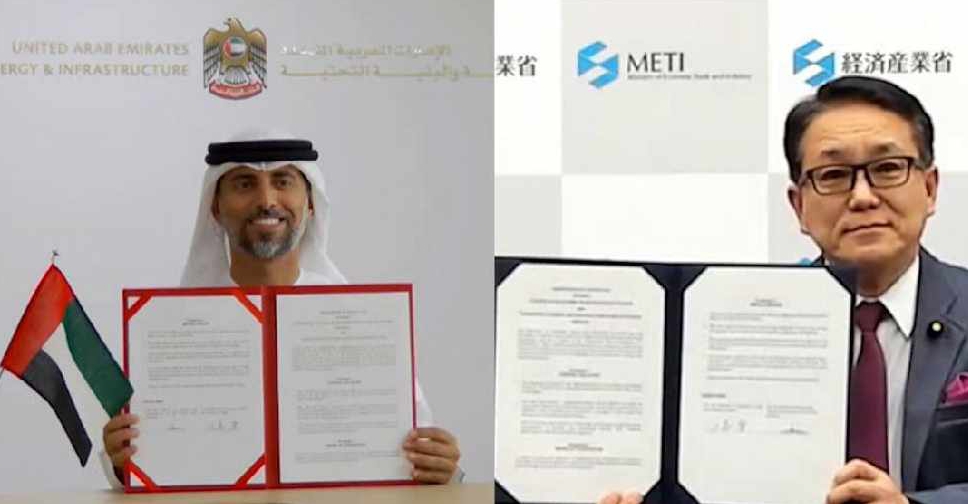 WAM
The UAE and Japan have signed an agreement to explore opportunities in the field of hydrogen development.
The Ministry of Energy and Infrastructure finalised the virtual pact with the Japanese Ministry of Economy, Trade, and Industry.
It will see the two sides expand their joint areas of collaboration and enhance investment in the hydrogen sector, supporting the ambition to accelerate the energy transition towards a low-carbon future.
The agreement was signed by Suhail Al Mazrouei, Minister of Energy and Infrastructure, and Ejima Kiyoshi, State Minister of Economy, Trade, and Industry of Japan, in the presence of high-ranking officials from both sides.
The latest move will help strengthen the bilateral relations between the UAE and Japan.
It also emphasises the Ministry of Energy and Infrastructure's approach to developing the scope of strategic partnerships between the two friendly nations in the field of clean energy.
Such partnerships support the two countries' efforts towards achieving the goals of the Paris Climate Agreement, as well as contributing to the shift towards clean, renewable energy by relying on hydrogen production.
Al Mazrouei pointed out that the UAE seeks to reduce the carbon footprint by implementing the 2050 energy strategy aimed at reducing carbon dioxide in the country by 70 per cent, and raising the individual and institutional consumption efficiency by 40 per cent by 2050.
"We also aim to diversify the future energy mix, and raise the contribution of clean energy to the total energy mix produced in the country to 50%," he added.
The Ministry of Energy and Infrastructure recently joined the Abu Dhabi Hydrogen Alliance, which was established by Mubadala Investment Company, Abu Dhabi National Oil Company (ADNOC), and Abu Dhabi Holding Company (ADQ), with the aim of establishing the UAE's position as a reliable exporter of green hydrogen.