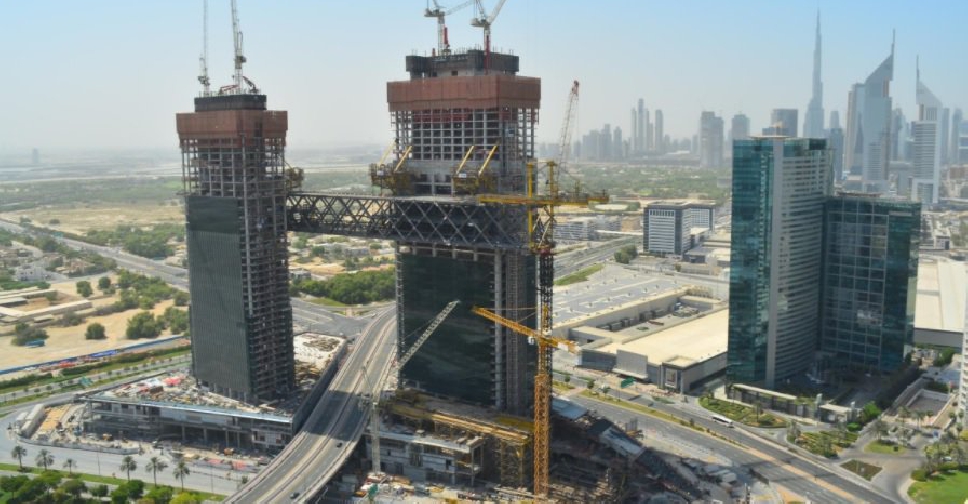 WAM
Construction on One Zaabeel has reached a milestone after part of a 7,700-tonne bridge - that is set to link the two towers standing 304m and 241m high - was lifted 100 meters above ground level.
According to developer Ithra Dubai, it took 12 days and more than 110 special jacks and heavy-duty strand jacks, and a team of experts to lift the 192-meter-long section of The Link into its final position.
The second lift of 900 tonnes is scheduled for October and will complete the Link structure to reach its final length of 226 metres.
Once completed, the cantiveler structure - with a built-up area of 470,700 square metres - will include office and retail spaces, residences, ultra-luxury hotels and an urban resort.
The building will also be connected to the Dubai World Trade Centre.
It is estimated to be completed in late 2021.
"Ithra Dubai's One Za'abeel and its iconic Link are modern marvels of engineering and design, a tribute to Dubai's Vision and the city's greatness," said Issam Galadari, Director and CEO of Ithra Dubai.
"The boundless ingenuity exhibited in this project will attract visitors from all over the world by offering the best in business and leisure. One Za'abeel will soon join the list of wonders attributed to Dubai."