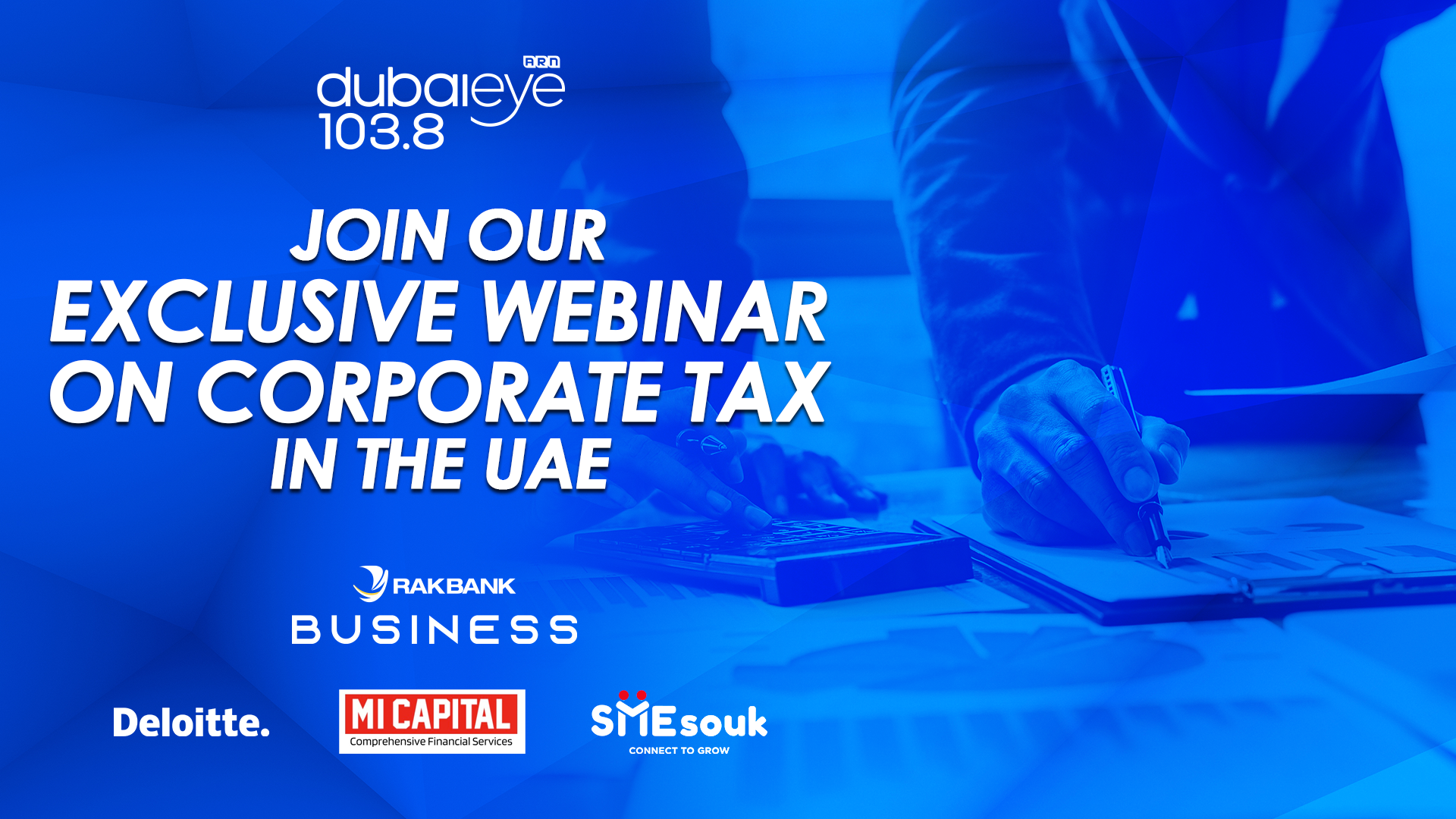 The UAE's Ministry of Finance has confirmed that the country will introduce a federal corporate tax for the financial years starting on or after 1st June 2023.
They've announced that the 'UAE Corporate Tax regime' will support investment activities and ensure the free flow of capital, trade, financing, and services.
So how will this affect your business?
We've teamed up with our partners at SME Souk powered by RAKBANK to explore this further.
Join us on the 23rd of June for an exclusive, invitation-only webinar that aims to help businesses confidently plan for the future.
Richard Dean will be speaking to leaders from Deloitte and MI Capital to help SMEs understand corporate tax in the UAE.
The session will cover key principles of the anticipated regulations and the focus areas for UAE companies.
As ever, the team from RAKBANK will be on hand to field any other questions on growing your business.

All you have to do is sign up below!
The webinar will feature:
Speakers
Jan Roderick Van Abbe
Partner of International Tax at Deloitte, Dubai
Jan is a Partner based within the International and M&A Tax team in Deloitte, Dubai. He has over 14 years of experience in direct and international taxation and transferred from Deloitte Singapore (and Deloitte Switzerland previously) to the UAE in 2016. Jan leads the offering related to CT in the UAE, as well as Pillar Two. Jan is a regular speaker at tax events such as IFA on international tax developments. Jan is a Swiss Certified Tax Expert and holds a Master's degree in law from the University St. Gallen (HSG).
Sheetal Soni,
Partner at MI CAPITAL
Sheetal is a CFA Charter holder and Qualified Chartered Accountant with over 20+ years of work experience across Capital Raising, Project and Corporate Financing, Alternative Finance, Treasury, Investments, M&A, Valuations, Taxation, and Compliance. He has led or participated in raising over USD 8bn of debt capital during his career through a series of instruments. Sheetal has worked with large publicly listed companies in the GCC region in various senior positions and is currently a partner at leading financial advisory firm MI CAPITAL. The company provides services including Corporate Finance Advisory, Tax and Compliance, Audit and Assurance, licensing, and Investments.
Maria Cristina Hernandez
Senior Manager, International Tax at Deloitte, Dubai
Maria has over 11 years of experience providing international tax advisory services to multinational companies in the Americas and the Middle East. Maria supports Jan in the offering related to UAE CT and Pillar Two. Maria holds an Advanced Master's in international Tax Law from the University of Leiden in the Netherlands and a bachelor's in Law from the Pontificia Universidad Catolica Madre y Maestra in the Dominican Republic.

Register here