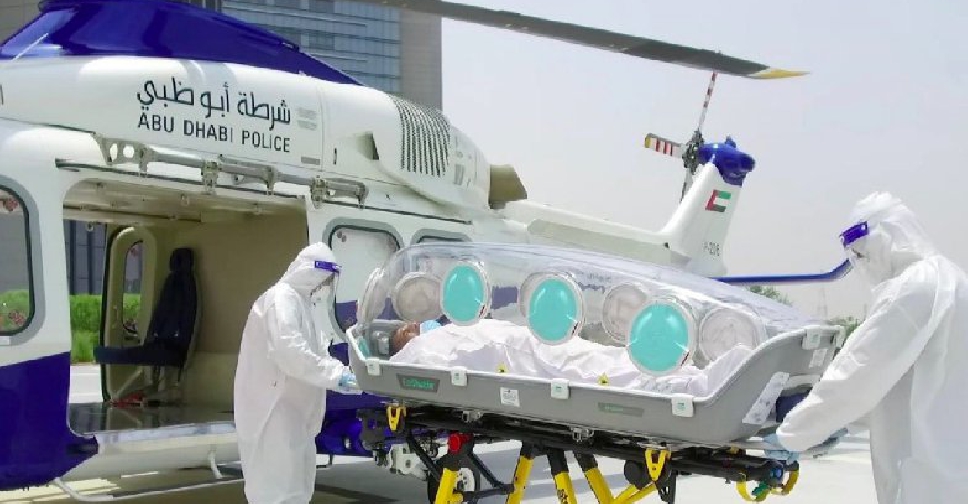 WAM
The Abu Dhabi Police have launched isolation capsules to airlift COVID-19 patients to hospitals.
It's part of the UAE's efforts to combat the spread of COVID-19.
The pods will limit the exposure of the paramedics and the crew while transporting the patients.
Major Dr Ali Saif Al Dhahouri, a specialist in aviation medicine with the Abu Dhabi Police, also highlighted how the capsules can be used in the future to transport patients with other infectious diseases.
Colonel Pilot Obaid Mohammed Al Shemeli, deputy director of the Abu Dhabi Police Aviation Department, noted that the system reflects the UAE leadership's keenness to provide state-of-the-art facilities to protect the health and safety of its people.
إدارة طيران #شرطة_ابوظبي بقطاع العمليات المركزية تستعرض مزايا نظام النقل الطبي بالإسعاف الجوي عبر الكبسولة الحاضنة للأمراض المعدية ضمن نظام عزل متكامل لنقل المرضى الذين يعانون من أمراض معدية و تعد الأولى من نوعها في المنطقة والدولة ودشنت ضمن الإجراءات الاحترازية لمكافحة جائحة كوفيد-19 وتستخدم لجميع الأمراض المعدية. #أنت_المسؤول #الجميع_مسؤول #في_أبوظبي ‏#InAbuDhabi #أبوظبي_أمن_وسلامة ‏‎‏#Abudhabi_safe_and_secure #الإمارات #أبوظبي #شرطة_أبوظبي #أخبار_شرطة_أبوظبي#الإعلام_الأمني ‏‎‏#UAE #AbuDhabi #ADPolice ‏‎‏#ADPolice_news ‏‎‏#security_media

Posted by AD Police HQ on Friday, August 14, 2020