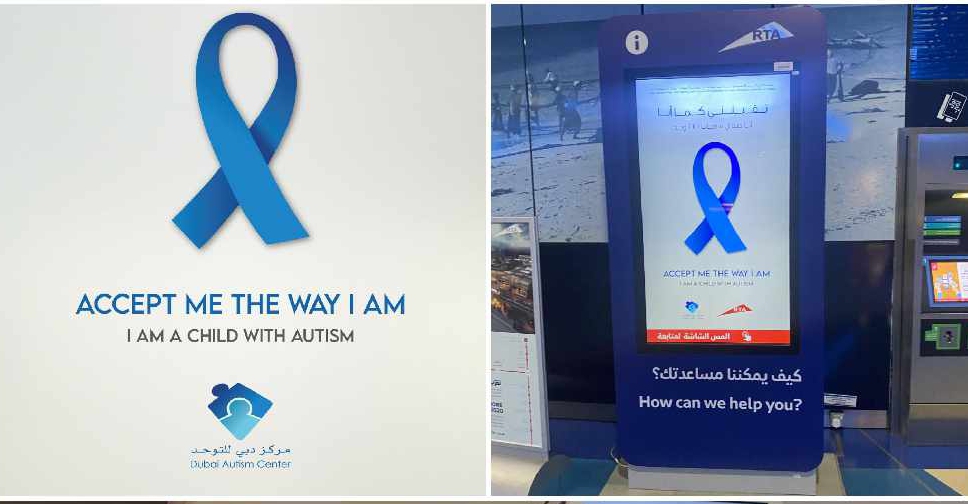 Dubai Media Office
Thousands of advertising and outdoor media screens across Dubai are displaying awareness messages on autism.
A number of government and private institutions in the emirate have come together to support the 15th annual autism awareness campaign launched by the Dubai Autism Center under the patronage of H.H. Sheikh Hamdan bin Mohammed bin Rashid Al Maktoum, Dubai's Crown Prince and Chairman of The Executive Council of Dubai.
In April, over 5,300 screens located in the Roads and Transport Authority's (RTA's) metro, tram and bus stations as well as gas stations and shopping centres are displaying the messages to educate society about the importance of accepting and empowering individuals with autism and integrating them into society.
Advertising screens and outdoor media across #Dubai support autism awareness campaignhttps://t.co/BxldGM9G5f pic.twitter.com/EkPpbQTust

— Dubai Media Office (@DXBMediaOffice) April 18, 2021
Founded in 2001, Dubai Autism Center is a non-profit organisation that provides specialised services to children with autism as well as support for their families and caregivers.
The Center obtains its financial resources from subsidies, donations and charitable endowments.
Autism spectrum disorder (ASD) is a neurological and developmental disorder that begins early in childhood and lasts throughout a person's life.
It can cause significant social, communication, and behavioral challenges.