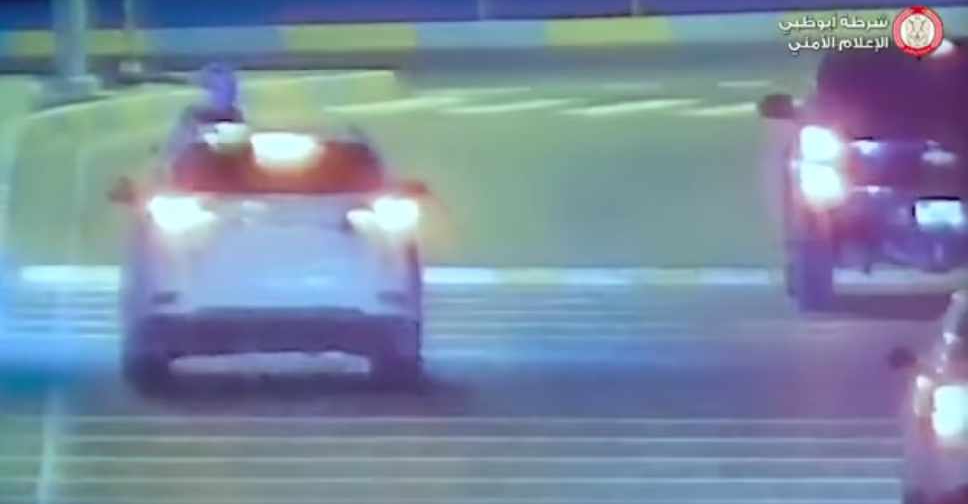 Facebook/ADPolice
A new video released by Abu Dhabi Police shows a driver of an SUV slamming into a motorcycle rider in the UAE capital.
The video footage, posted on their official social media channels, ends just as the car hits the bike.
Using the "Safety Path" campaign, the authority reminded drivers not to be distracted when on the road.
They also urged drivers not to use their mobile phones, wear make-up, or eat or drink while driving.
The authority added that a AED 800 penalty and four black points awaited those who broke these rules.
بالفيديو .. شاهد خطورة الانشغال بغير الطريق . بثت شرطة أبوظبي بالتعاون مع مركز المتابعة والتحكم- أبوظبي وضمن حملة " درب السلامة " ومبادرة "لكم التعليق" فيديو لحادث بسبب الانشغال بغير الطريق . وحذرت مديرية المرور والدوريات بشرطة ابوظبي السائقين من مخاطر الانشغال أثناء القيادة باستخدام الهاتف أو تناول الطعام أو الشراب ، والتفات السائق للتحدث إلى مرافقيه أوالانشغال بالتصوير، وتعديل المكياج والهندام، وغيرها من السلوكيات اللتي تؤدي الى فقدان التركيز و انحراف المركبة وهي أحد الاسباب الرئيسية للحوادث المرورية الخطيرة . وذكرت بأن مخالفة الانشغال عن الطريق أثناء قيادة المركبة بأي صورة كانت 800 درهم وأربع نقاط مرورية . #درب_السلامة #لكم_التعليق #الانشغال_بغير_الطريق #أنت_المسؤول #الجميع_مسؤول #في_أبوظبي ‏#InAbuDhabi #أبوظبي_أمن_وسلامة ‏‎‏#Abudhabi_safe_and_secure #الإمارات #أبوظبي #شرطة_أبوظبي #أخبار_شرطة_أبوظبي#الإعلام_الأمني ‏‎‏#UAE #AbuDhabi #ADPolice ‏‎‏#ADPolice_news ‏‎‏#security_media

Posted by Abu Dhabi Police on Friday, May 28, 2021