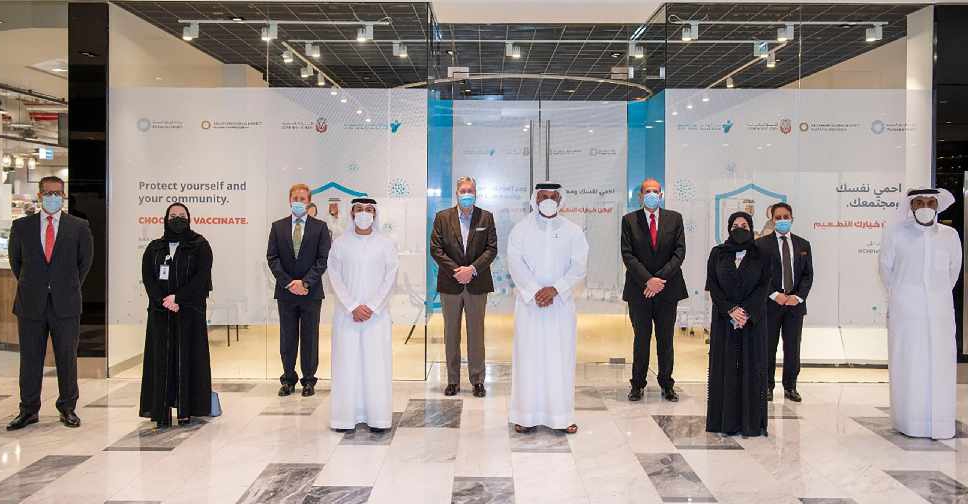 WAM
Sheikh Abdullah bin Mohamed Al Hamed, Chairman of the Department of Health – Abu Dhabi (DoH), has commended the sector's efforts to fight the spread of COVID-19.
Al Hamed was speaking during a visit to Mubadala Health's new vaccination booth at The Galleria Al Maryah Island.
It's been opened in collaboration with Abu Dhabi Global Market (ADGM).
Services are being offered at the booth on Sunday to Thursday from 10:00 am to 7:00 pm.
The facility can administer five vaccine doses for different people at the same time, while ensuring pre-scheduled appointments to maintain social distancing.
The Chairman praised the leading role demonstrated by Abu Dhabi's healthcare sector and Mubadala Health's commitment towards providing quality services and working side by side to fight the challenges in curbing the spread of the virus.
He highlighted the efforts encouraging people to choose to vaccinate, especially within the most vulnerable groups more prone to COVID-19 complications, such as the elderly and those with chronic diseases.
"We are extremely proud to be part of the national vaccination programme, which demonstrates the UAE's ability to mount an agile and effective response to the pandemic through collaboration between the public and private sectors," said Hasan Jasem Al Nowais, CEO of Mubadala Health.
He added that "by leveraging Mubadala Health's infrastructure across Abu Dhabi and Al Ain, and working with other partners such as Abu Dhabi Global Market, we can facilitate widespread access to COVID-19 vaccinations for the most vulnerable members of our society. In addition to the vaccination centres located in our network of facilities, we are keen to operate the platforms located outside our facilities to expand the scope of vaccination services against the COVID-19 virus.
In addition to the booth located in The Galleria Al Maryah Island, Mubadala Health also has vaccination centres at the Imperial College London Diabetes Centre, Amana Healthcare, Capital Health Screening Centre and Healthpoint, as well as Mubadala Health vaccination booths at Cleveland Clinic Abu Dhabi and IPIC Square.
Applications for the vaccine can be made via the following email: mcv@telemed.ae.
Appointments are currently open to citizens and residents of the UAE who have chronic conditions, people of determination, or are aged 50 or above, in-line with government guidelines.
@dohsocial Chairman, Abdulla bin Mohamed Al Hamed visited the new @mubadalahealth vaccination booth at @thegalleriauae launched in collaboration with Abu Dhabi Global Market in support of DOH's aim to increase access to Covid-19 vaccines across the emirate. pic.twitter.com/9MSbu9BvlE

— دائرة الصحة - أبوظبي (@DoHSocial) February 14, 2021