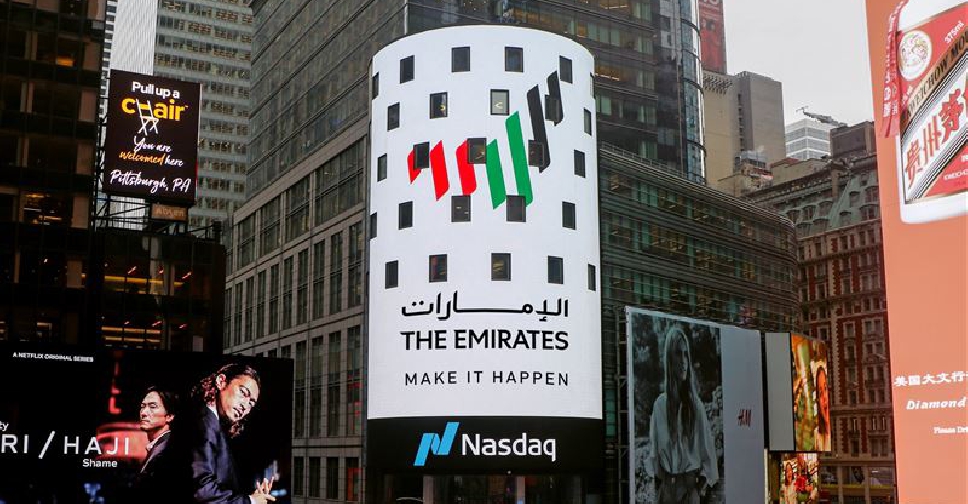 Dubai Media Office
The logo with the 'Make It Happen' slogan has been beamed on New York's Nasdaq Tower.
The event reinforces the strong links between Dubai's financial district and international markets.
Saeed Al Eter, Director-General of the Public Diplomacy Office, overseeing the strategic direction of the UAE Nation Brand, was joined by Hamed Ali, CEO of Nasdaq Dubai, and Arif Amiri, CEO of DIFC, at the ringing of the opening bell at Nasdaq Dubai to celebrate the occasion.
The 'Seven Lines' logo of the #UAE Nation Brand was displayed on the Nasdaq Tower in New York's Times Square.@NasdaqDubai pic.twitter.com/msCeI6JLPi

— Dubai Media Office (@DXBMediaOffice) February 3, 2020
Being present at the market-opening bell is significant as it represents Dubai's rapid emergence as an international financial hub as well as reinforcing the UAE Nation Brand's "Make It Happen" philosophy.
As an iconic screen in New York's Times Square, Nasdaq's electronic LED video screen attracts more than 50 million visitors a year and has over 380,000 passersby every day.