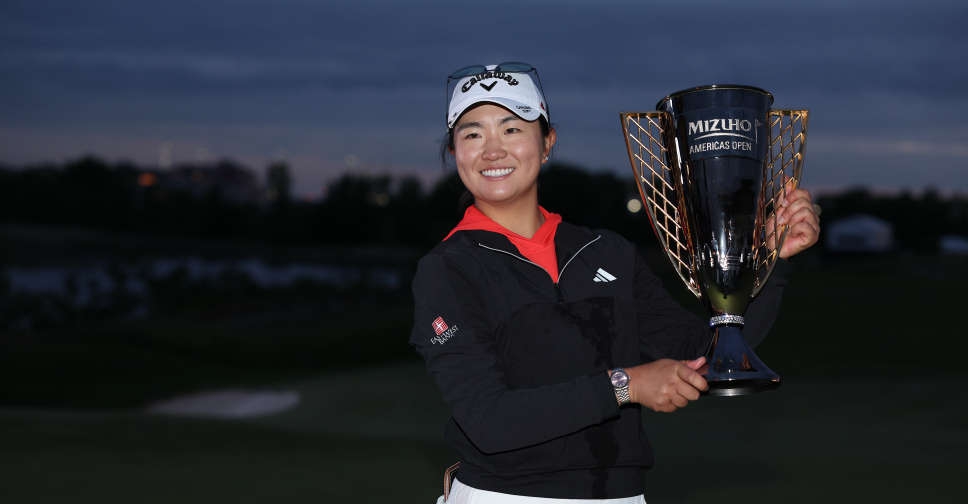 AFP
Rose Zhang, hailed as one of the greatest women's amateur golfers in history, made an electrifying entrance onto the LPGA Tour with a captivating victory at the Mizuho Americas Open in New Jersey.
Despite a challenging final round, the 20-year-old former Stanford star displayed unwavering composure to secure the title in a playoff against Jennifer Kupcho.
Zhang's remarkable journey as a professional golfer began at Liberty National Golf Club, where she held her nerve and delivered a poised performance. Despite posting a 2-over 74 in the final round, Zhang's unwavering determination and skill propelled her to victory in her first professional start.
"What is happening? I just can't believe it," Zhang exclaimed during an interview with the Golf Channel. "It was just last week when I won NCAAs with my teammates, and to turn pro and come out here, it's just been amazing. I've enjoyed the journey... I had so many cheers around me, all my friends and family. I'm just so grateful."
History. 🌹 pic.twitter.com/PxWBaDA8vo

— LPGA (@LPGA) June 5, 2023
Zhang's triumph carries historical significance. She became the first person to win on the LPGA Tour while making her professional debut since Beverly Hanson achieved the feat in 1951. Additionally, Zhang's victory marks the first time since 2019 that a golfer has won in their first LPGA start. Notably, she is the first player ever to claim the NCAA Division I individual title and triumph on the LPGA Tour within a mere two-week span. This achievement has also granted Zhang automatic Tour membership.
Entering the final round with a one-shot lead, courtesy of her impressive 6-under 66 in the third round, Zhang faced a slower start on Sunday. She encountered a setback with a bogey on the par-3 4th hole. However, Zhang showcased her tenacity by stringing together 12 consecutive pars, despite narrowly missing a birdie opportunity on the par-4 16th.
At the crucial par-3 17th, Zhang delivered a crucial 10-foot putt to save par and maintain her one-shot advantage. Despite her drive at the final hole finding a fairway bunker, Zhang's precise approach placed her safely in front of the green. With an opportunity to secure victory with an up-and-down par, her putt narrowly missed the cup. Kupcho, her playoff opponent, matched her par, necessitating a return to the 18th hole.
During the playoff, both Kupcho and Zhang encountered challenging shots. However, Zhang's composed play allowed her to secure par, while Kupcho stumbled with a three-putt, ultimately sealing Zhang's momentous inaugural win.
Reflecting on her triumph, Zhang acknowledged the demanding nature of the golf course. "This golf course is rough," she remarked during the Golf Channel interview. "I really got a bit of everything, got a taste of the pressure, got a taste of the wind. I tried to stay composed as always. I knew that golf was just a grind, and you really had to dig deep, so once again, that's what I did. I'm glad I'm here."
Kupcho concluded the tournament in second place after her impressive 3-under 69 on Sunday, while Hae Ran Ryu finished one shot behind at 8-under for the week.
Zhang's domination of the sport as an amateur is undeniable. She achieved numerous milestones, including back-to-back NCAA titles, setting the single-season scoring record twice, and winning 12 of the 20 college tournaments she competed in. Zhang held the top spot in the World Amateur Golf Rankings for an unprecedented 141 consecutive weeks before turning professional.