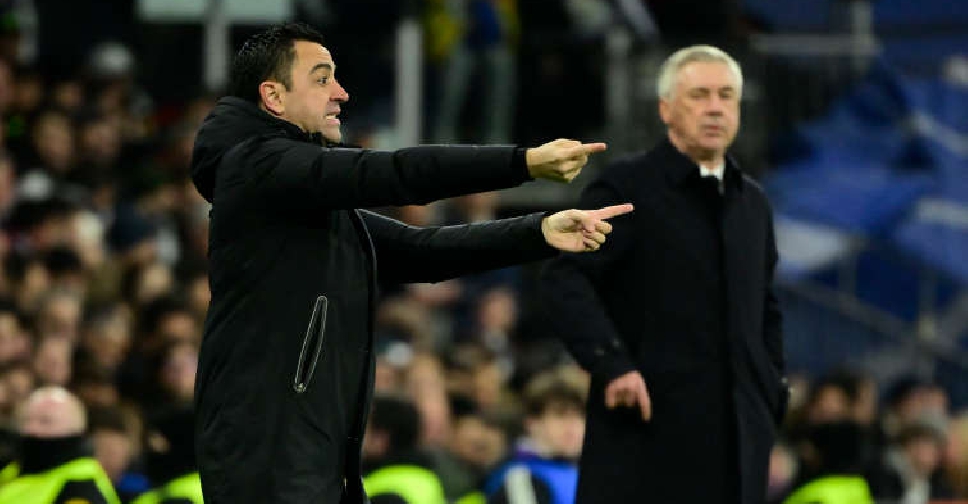 AFP
Barcelona coach Xavi Hernandez was left disappointed with his team's performance in possession despite their 1-0 away win over Real Madrid in the Copa del Rey semi-final first leg on Thursday. 
Barca had lost their last two games but put up a strong defensive display to beat Madrid at the Santiago Bernabeu, with Eder Militao's first-half own goal being the difference between the two teams.
The visitors recorded just 35 per cent possession, which was their lowest in the last eight seasons and lowest across their last 685 games for which data is available. Their previous low was 44 per cent.
"I am satisfied with the effort and how we defended," Xavi said in a post game news conference.
"We minimised Madrid's chances at their own ground, where they usually create a lot. It was a positive result, which I am happy about, but we have work to do on the ball. The plan was to have long spells of possession and defend with the ball, but we couldn't."
Xavi added, "Normally, we are better in possession, more precise. We didn't make good choices today, we didn't have patience with the ball, we didn't win the physical battles in their half, but there are other aspects of the game I liked."
Despite giving up possession to Madrid, Barca did not allow their opponents to register a single shot on target.
It was the first time since last season's Champions League when they lost 2-0 to Paris Saint-Germain that Madrid failed to test the goalkeeper, while they have registered a shot on goal in all of their last 294 home games for which data is available.
Xavi said Barca, who were without Andreas Christensen, Pedri, Ousmane Dembele, and Robert Lewandowski through injury, had not betrayed their style but were forced to defend by Carlo Ancelotti's side.
"The opponent makes you play like that," he added. "Today they dominated us with the ball. We couldn't find the solution with the ball by beating that high press. It was hard for us. We could have drawn, but defensively we were spectacular. I still think Madrid is strong, they normally create a lot of chances at home, but today they hardly created any."
Before the game, Xavi had said Madrid, as La Liga and Champions League holders, were favorites for the tie, and he maintained that is still the case ahead of the second leg at Camp Nou on April 5. Before then, the teams meet in La Liga on March 19, also at Camp Nou. The Blaugrana have now won three of the last four Clasicos and are currently seven points clear at the top of the table.
The match also marked a historical day for Barca captain Sergio Busquets who surpassed Lionel Messi and Sergio Ramos to become the highest-ever appearance-maker in the history of the Clasico. The 34-year-old Spaniard played against Madrid for the 46th time, and he could face them two more times in the next month. "I am happy to have played more Clasicos than anyone else," he said. "As a player, these are the games you love. I am lucky to have been at the best club in the world for many years, and I am still enjoying it."