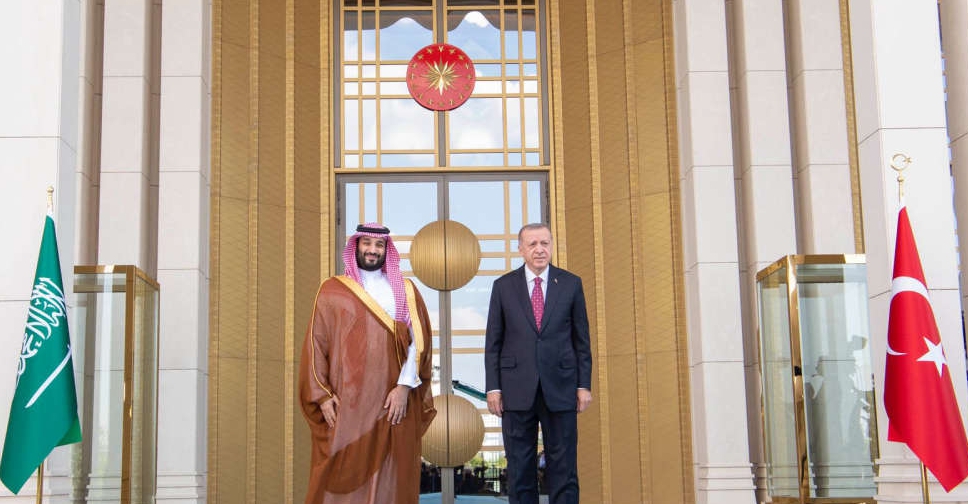 @Spa_Eng/ Twitter
Saudi Arabia and Turkey emphasised determination on a new period of cooperation in bilateral relations during talks in Ankara.
In a joint statement following the talks between Saudi Crown Prince Mohammed bin Salman and Turkey's President Recep Tayyip Erdogan, the two countries said they discussed improving relations and investment in sectors from energy to defence among others.
Erdogan welcomed Prince Mohammed at the presidential palace in Ankara with a ceremony and the two shook hands and embraced, before being met by members of the Turkish cabinet.
The visit is aimed at normalising ties that were strained after the death of Saudi journalist Jamal Khashoggi in Istanbul in 2018.
In April, Erdogan held one-on-one talks with Prince Mohammed in Saudi Arabia after a months-long drive to mend relations between the countries.
Turkish President Holds ceremonial reception for HRH #Crown_Prince and they hold bilateral meeting at the Presidential Complex in #Ankara.#SPAGOV pic.twitter.com/PV8S0hUfKg

— SPAENG (@Spa_Eng) June 22, 2022