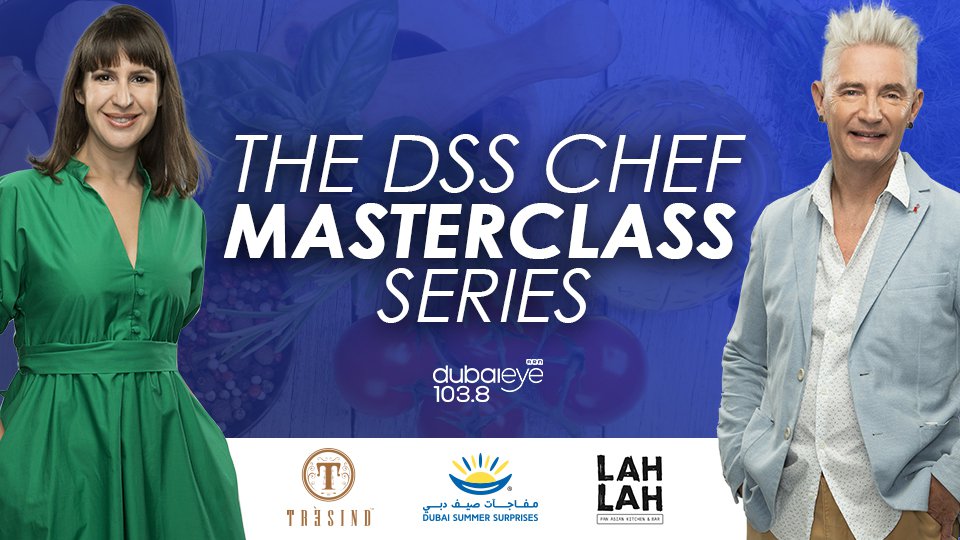 We're taking Dubai Eye 103.8 on tour to the city's BEST restaurants.
Every week we're exploring the unique flavours and tastes of fine dining destinations with a live broadcast from the kitchen.
Every Tuesday, Mark will be kicking off our culinary tour with a live broadcast of The Sounds of Summer with Mark Lloyd from 12pm-2pm. And then from 2pm until 5pm Helen will continue the tour on Afternoons with Helen Farmer, live with a chef talking all things food.
The DSS Chef Masterclass series, live every Tuesday with Dubai Summer Surprises, exclusively on Dubai Eye 103.8.
THIS WEEK
Join Mark Lloyd live on Tuesday 18th August from midday at Lah Lah at Zabeel House by Jumeriah, The Greens where he will be joined by Chef Rosnani Hasan making Vegan Paradise & California Rolls, along with a delicious mocktail.
Join Helen Farmer from 2pm from Tresind at Voco Hotel, where they will be making Butter pepper garlic prawns and Mushroom chai with Chef Himanshu Saini.
You could take part in a live cooking experience at one of these amazing restaurants. Enter below for your chance to win a place at this magnificent masterclass as we celebrate two of Dubai's leading culinary destination with Dubai Summer Surprises, only on Dubai Eye 103.8.
But not to worry…if you don't manage to secure a place at the Masterclass next week you can join in a live cook-a-long session this Friday 21st August with Helen Farmer and Chef Himanshu Saini, at Tresind. Simply purchase the ingredients listed below and tune into Facebook Live on Dubai 103.8's Facebook Page from 12.30pm on Friday. We'll be making delicious Kerala curry noodles.
INGREDIENTS NEEDED
Kerala curry noodles, assorted mushrooms
Maggi coconut milk powder 1 pkt (300 gm)

Maggi veg stock cube 1 piece

Hakubaku organic somen noodles 1 pkt (270 gm)

Exotic mix mushroom 1 pkt (200 gm)

Fresh basil 15 gm

Bok choy 2 pieces

Ginger 50 gm

Red onion 100 gm

Green chili 20 gm

Garlic 1 piece

Coriander leaf 20 gm

Fresh curry leaf 20 gm

Any cooking oil 50 ml

Turmeric powder 1 pkt

Spring onion 20 gm

Truffle oil 10 ml

Lime 1 piece

Salt

Sugar